DRUM TOTE RACKS -
Reservoirs
We offer a wide variety of reservoirs for gravity feed applications. All reservoirs, with the exception of 55 gallon closed head drums, have a removable gasketed top lid as well as a rounded or a cone style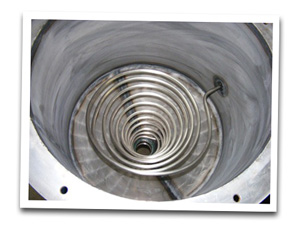 bottom. The reservoir sizes vary from 3, 5 ½ , 7, 10, 19, & 49 gallon. 55 gallon & 10 gallon and below reservoirs can all be water traced, while the 19 & 49 gallon reservoirs have an internal cooling coil. Any of these reservoirs can be used in most any application. All reservoirs with removable top plate have two 1 inch NPT female inlets as well as one 2 inch inlet on top. Extra inlets allow sensors etc. to be installed where necessary.

Drum Rack
Our 55-gallon drum racks are available with 19 or 49-gallon cone reservoirs with optional internal cooling coils or 55-gallon drum reservoirs. All reservoirs are available water cooled and insulated for applications requiring temperature control. Upper drum airlift is standard on upper rack to lift drum at a preset remainder of adhesive (4-5 gallons). This allows the drum to drain more and signals that the drum is almost empty. The upper drum connections are made with 2 in 90 degree angle cam lock fittings and 2in PVC hose. We supply cleaned and prepped valves and fittings for upper and lower drums. All Bandit drum racks, tote racks and bridge deck platforms have cam-lock fitting holders pictured, which allow easier, less messy change-over of drums or totes.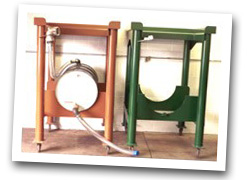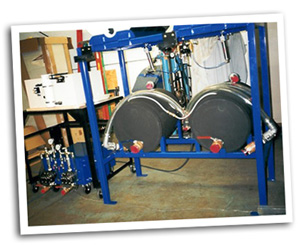 Bandit Tote Racks
300 Gallon Tote Racks utilize 19 or 49-gallon cone or 55-gallon drum reservoirs. Single and double tote racks are available. When 55 gallon drums are used, supports are parallel to the ends of the drum which allows water tracing and insulation after the installation if required. We prefer the water tracing prior to installation as it is a much cleaner, easier task. Cam lock fittings and holders, prepped valves and feed hose are standard.
Sensors are available for drum or tote systems which confirm the supply drum or tote is empty.