BANDIT CROSS PEEL TESTER-
Most cross peel testers incorporate thumb screws to secure the test strips. We have updated this by adding air clamps to secure the test strips. A top loading design allows for faster, easier loading, adjusting and observing the peel rates. An auto cycle switch was added allowing a hands free operation while peeling. Optional heated jaws allow time – temperature studies for strength builds and cycle times.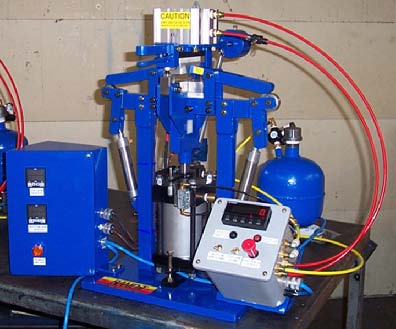 FEATURES :
Air operated clamps
Nickel Teflon Plated Clamp Surfaces
5-10 second load time
Pull button start with auto return
Rate of peel control – Oil over Air Cylinder with needle valve speed control
Load cell measured with LED digital readout & reset
100 PSI yields max 1200 PSI at bond line (Max 120 PSI clean/dry air)
Instruction and parts manual
Approximant size - 20 in. W x 18 in. D x 18 in. H - Weight 165 LBS.

The angled box to the left of the machine is the optional heated jaws control unit.
HEATED JAW OPTION:
Two PLC units control top & bottom jaw temperatures
Over – temperature shut - off programmed into controllers
Separate panel houses temperature control system
Main power button to run with or without heated jaws