BANDIT PURGE CONTROL SYSTEMS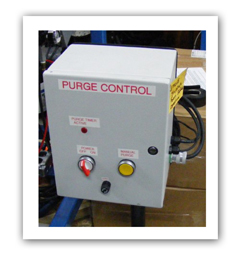 Bandit purge control systems are stand alone systems for use with Bandit or EMC guns and air or electric triggers. The system utilizes a purge timer (duration of purge), between purge timer (time between purges) and an overall timer. The overall timer is used to time out the activity of the purge control if someone forgets to shut off the controller.
The typical Bandit DC Drive purge control is tied into the DC Drive system via a 24vac signal. This purge unit does not need air to operate. Air signal type dispense units will require air to the Purge Control which in turn will be used to control dispense machine and dispense gun. Other options exist if necessary.
The unit is installed by bolting to the floor, (hooking up air (1cfm@40+psi) if necessary) and electric (120V AC) and setting timers. Once the gun is inserted in the holster, a proximity sensor starts the purge system. A button for manual purge (over rides the purge cycle and resets the timers), on/off switch and purge control "activated light" are mounted on panel.