WELCOME TO BANDIT MACHINE
Our knowledge base was initially derived from servicing and repairing adhesive dispense equipment of all makes and styles. Rod meter, piston style, gear style, lobe style, Gerotor style, etc. Most of these units were pressure fed which added 2 more pieces of equipment to maintain. These units were used by a urethane adhesive company to send on trials for composite bonding applications. As time went on, it was easier to understand why some equipment worked well and some did not. In the early 80's we were asked to produce 2 pieces of equipment to do the same task, but smaller, lighter and easier to transport. This successfully started what is now known as Bandit Machine Inc.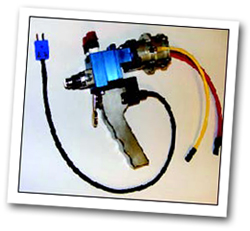 Expect to talk to a well trained associate when you have questions about dispensing adhesives, sealants or potting compounds. We have also worked with 2k materials in the medical and government fields. Urethanes are one of our strong points in the dispense market. It was derived from over 30 years of servicing all types of dispensing equipment, designing and building new equipment and improving upon existing equipment design shortcomings.